We Do It Better 💦
With over 7 years of experience writing erotica and hundreds of five star reviews, we know exactly how to push your buttons to get you there.
When you sign up for Taboo Lit, every week we'll send you irresistibly hot taboo erotic stories directly to your inbox. Go premium and get full access to all of our stories and access to our entire archive of taboo erotic stories.
Subscribe at any time by clicking the button at the bottom right.
🙌 Praise for Taboo Lit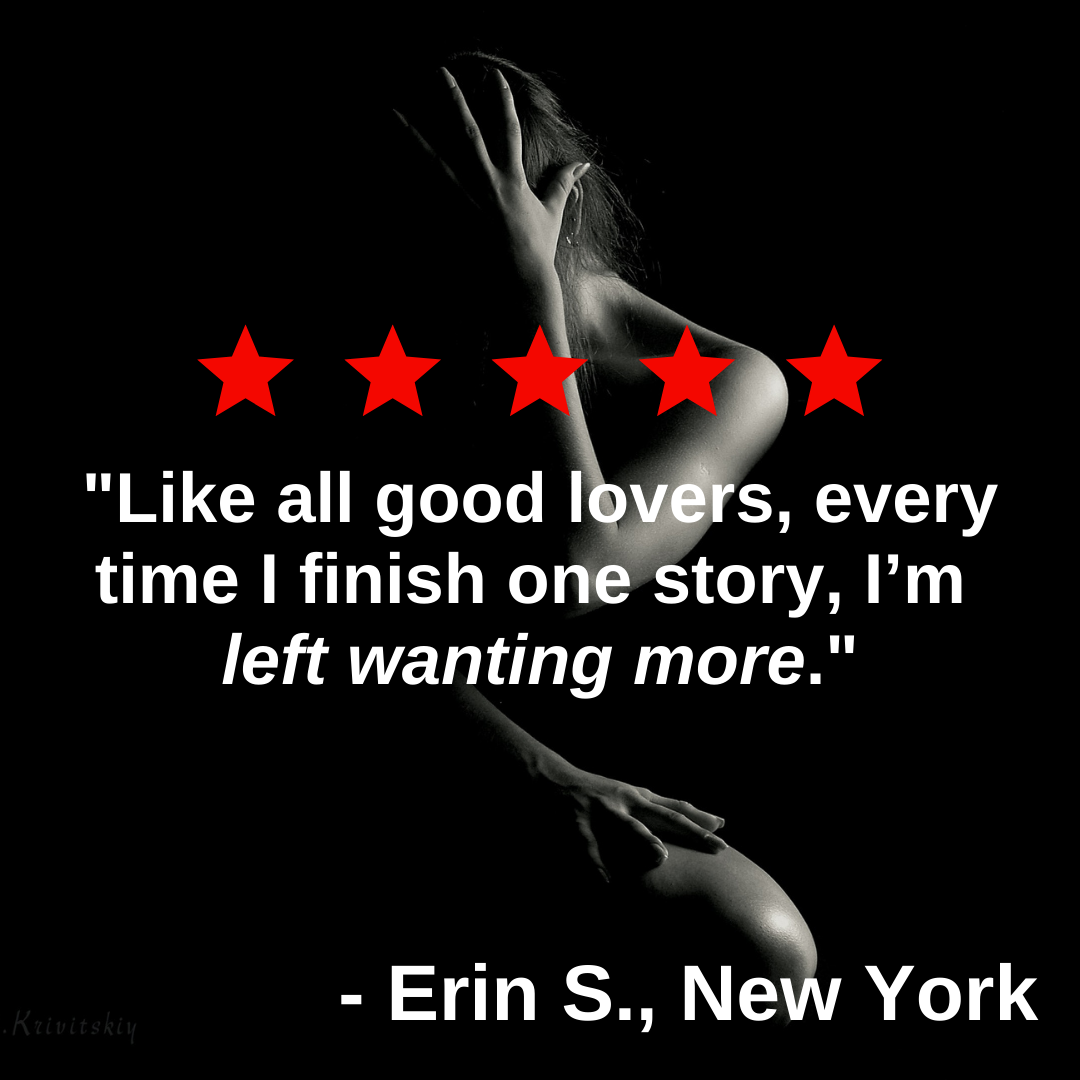 Us vs Everyone Else ✔️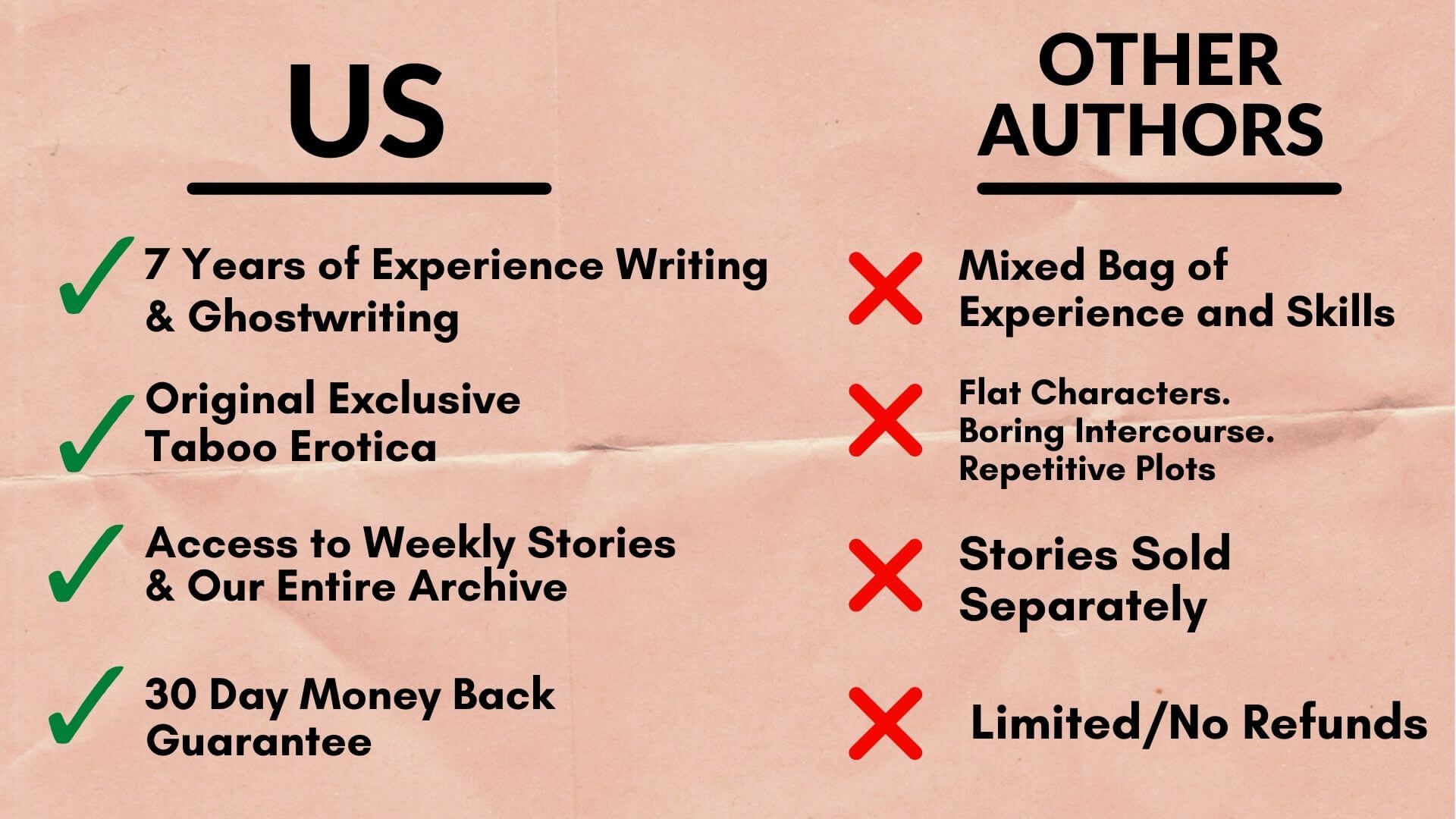 We Write Differently ✍️
Tired of reading about the same recycled plot lines about babysitters and fathers? Bored out of your mind with the same generic billionaires who are into BDSM?
We are too.
At TabooLit, we write differently. Our small team of writers have years of experience writing for Amazon and seeing what works and what doesn't. We'll bring you:
Complex Characters 💄
"As she thought more about the divorce, the more the pain gnawed at her insides. She looked down at the ring on her hand. Although it had been four months, for some reason, she still kept it on, only taking it off to sleep"  - The History Between Us
Scenes to Appeal to Your Deepest Desires 💘
"Kathy's hands moved on their own, the sponge now coming up the length of Joe's shaft, wetting it from base to tip. Joe gasped, pressing his hips up into her. He was so responsive, so willing. It was everything she wanted, and she only needed to take it with trembling hands..."
- Patience At the Hospital
Intriguing Story Lines 👙
"You know you don't have anything to worry about," Violet tried to dance around her point, the words 'you know you're hot' trapped in her throat, "It's not like you haven't been naked in front of a girl before..."

-Nailing the Art
Reviews for The Author of Taboo Lit 💌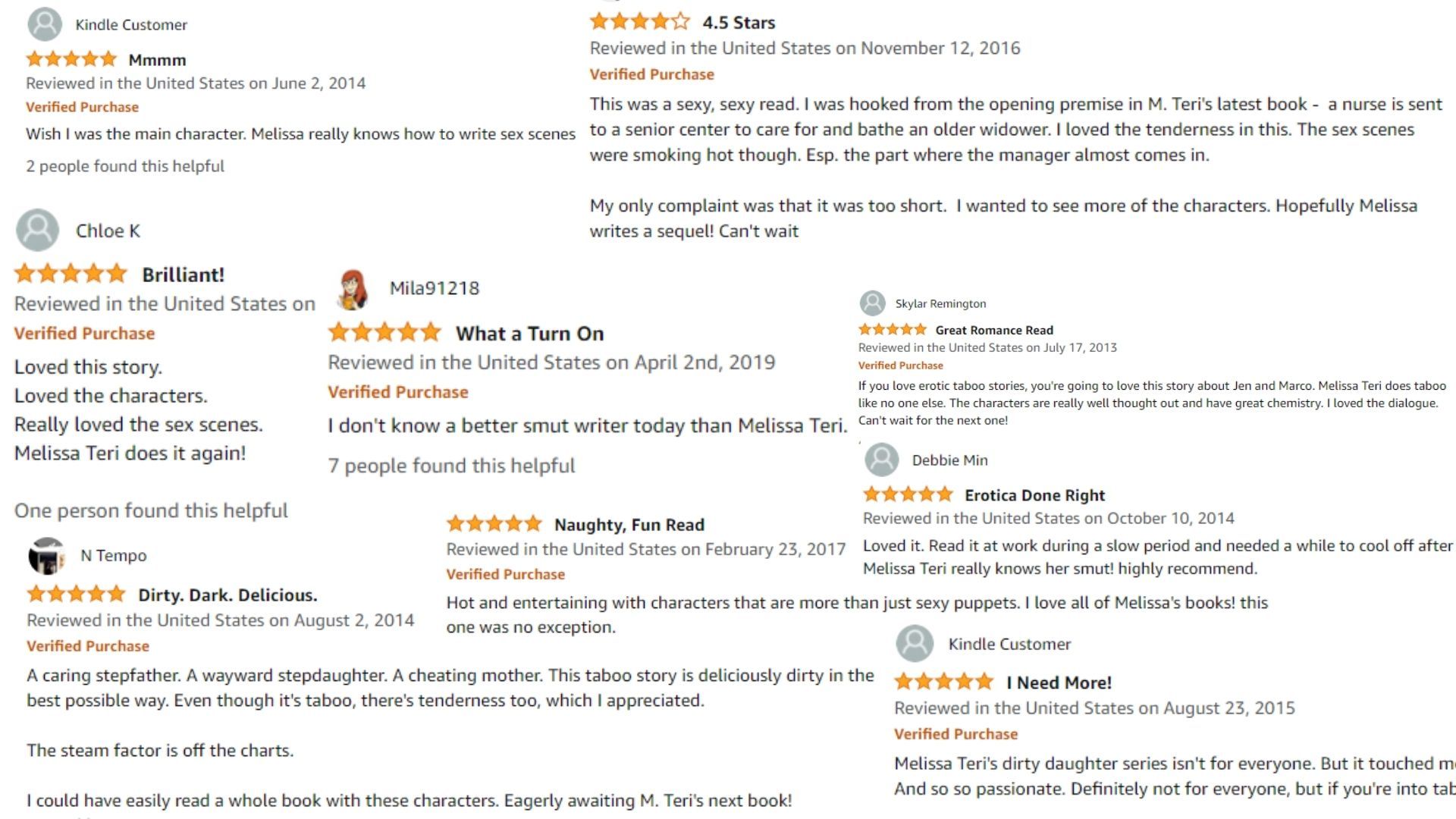 I'm In. So What's the Plan? 🩰
At TabooLit, we offer three tiers for subscriptions.
The Tease (Free Plan) 💄
Subscribe for free to get a peek of the good stuff. We'll send occasional stories, updates and more!
The Temptress 💋
Get two steaming hot stories every month sent straight to your inbox.
Got a kink you'd like to see more of? Send us an email at melissa@taboolit.com and we'll take it into consideration. We write to serve you 😘
The Goddess 👗
Get full access to our archives and get freshly written erotica delivered straight to your inbox. Save more when you pay annually.
Got a kink you'd like to see more of? Send us an email at melissa@taboolit.com and we'll take it into consideration. We write to serve you 😘
💸 30 Day Money Back Guarantee  
Subscribe worry-free. Every subscription comes with a one-month money back guarantee. If our stories aren't your thing, simply send us an email at help@taboolit.com and we'll respond within 1 - 2 business days with a full refund.
Frequently Asked Questions 🧠
I like reading stories in this genre, but I feel weird about it.
That's normal. Maybe you like stories with stepmothers and sons. Maybe you like fathers and babysitters. You're not alone. Part of human sexuality is being drawn to things that are forbidden. That doesn't mean that you or us would actually condone these things in real life (To be clear, we 100% do not condone these things in real life. The topics we write about are purely a fantasy).
For some people, exploring these types of kinks is cathartic for them, and reading helps them overcome past experiences.
What Makes This Worth It? Can't I Get Stories on Amazon?
You could. But you won't find the original taboo stories that we're creating here every week exclusively for our email list. And we've generally found the process of finding new stories and authors to be nothing short of painful.
If we had a dollar for every time we bought erotica on Amazon and regretted it, we'd have enough to become a generic billionaire who's into BDSM.
Our stories aren't free. But we put a lot of work into each story and are proud of the final product that we deliver. Plus, we believe that with our ever-expanding archive, our subscription becomes a better deal every week.
Some folks spend $60 a month on massages. Others can blow $200 on a shopping spree. It all depends on what makes you happy. For the price of dinner at a restaurant, we don't believe our subscription is all that much in comparison.
So rather than asking "Is this worth it?", a better question to consider might be "How much is my happiness worth?"
What kind of stuff do you write about?
We write heterosexual taboo stories. This does include topics such as incest and fauxcest: Naughty MILFs and horny (18+) teenagers. Stepfathers and wayward daughters. Sometimes we'll  Doctors and patients. Teachers and students. Mild BDSM.  Other kinky things. And sex. Lots of sex.
Characters in all stories are 18 and older.
How does this show up on my billing statement?
We understand that sometimes outside parties might need to look at your credit card statement.
To preserve your privacy, invoices will be billed under: TAB LIT.